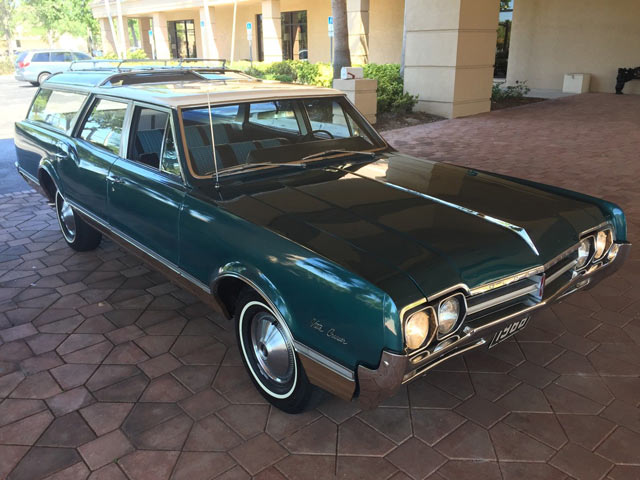 Is there any greater family wagon than the Vista Cruiser? Loaded with creature comforts and 14 windows offering expansive views the Vista Cruiser was built for long vacations and would be perfect for a Western national park tour. Admittedly, this one is lacking AC, but vent windows and flow trough ventilation went a long way in helping keeping the cabin cool. Found on Ebay in Sarasota, Florida, this Cruiser is being offered at no reserve where there was plenty of bidding early in the auction.
This is a one family owned wagon with 93,000 original miles. Plenty of documentation comes with the car including the original operating/owners manual and dealer service records form the 1960's.
With plenty of funky faux wood to go with the turquoise and white paint this wagon is sure to get plenty of attention rolling down the road. The seller says it's sporting Montgomery Ward whitewalls but hasn't Wards been out of business for 20 years? New tires would be on my agenda of needed upgrades.
Although the body looks to be very solid and the chrome and trim look to be excellent, the turquoise paint looks to be 'presentable' at best.
What an incredible shot of the panoramic interior! It's a wonder that this type of glass treatment didn't catch on with other wagon models. The Buick Sport Wagon which was on the same platform as the Vista Cruiser and is the only other 'glass roof' wagon I can think of.
The interior is definitely a strong point and the seller tells us that the headliner and dash are original and are in fantastic shape. No mention of other aspects of the interior but the upholstery and door panels looks magnificent and were likely  redone at some point. The rear cargo area looks as nice as the rest of the inside.
The numbers matching high compression 330 V8 is rated at a whopping 310HP which should give plenty of power for those mountain roads. The car is said to run like a top and is said to have an amazing sounding and expensive dual exhaust system.
A few months ago the seller sold this equally nice Vista Cruiser on Ebay for $13,609. I would expect this one to sell for a similar amount.