This 1961 Chevrolet Parkwood was originally a California car that ended up sitting in the Arizona desert for at least 20 years before being rescued by the current owner. The dry climate was kind to to the Parkwood's body but the windows were apparently left open while sitting in Arizona leaving the interior dry and dusty. The owner has done a nice amount of work to get the car roadworthy and it is said to run well with some issues that will need to be addressed. You can find this Parkwood on Ebay in Indianapolis, Indiana.
The Parkwood was built by Chevy from 1959-1961 and was the middle line wagon between the Brookwood and the Nomad Impala. This Parkwood has the original paint with no evidence of body work and very minimal rust. There are some typical dent and dings but overall the body looks very straight. The chrome and trim pieces look to all be complete and in decent shape.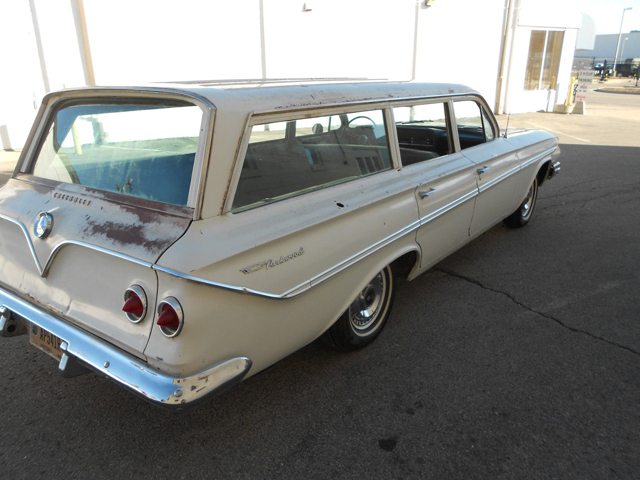 A new interior is needed but the seats themselves are said to be in good shape with only seat covers needed. Luckily interior pieces and fabrics are fairly attainable for Chevy's from this era.
A 6 cyl mated with a 3 on the tree manual transmission power the Parkwood. The seller reports no issues with the gearbox or shifting. The original single exhaust system is said to work quietly. There are no leaking fluids reported at all.
This Parkwood has plenty of possibilities; a stock restoration would be my choice but a restomod with serve this wagon just as well.