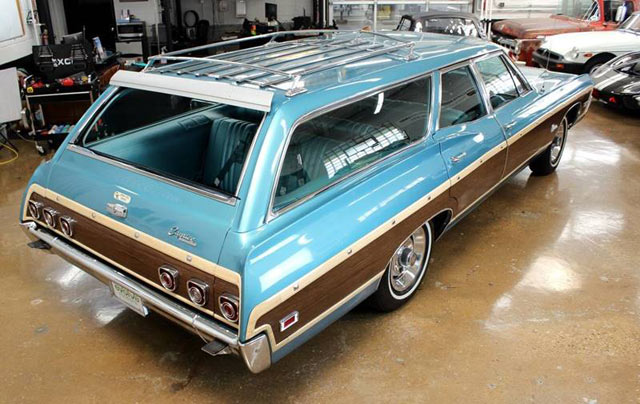 It's very difficult to find low mileage station wagons but low mileage wagons that are loaded with just about every factory option like this one including a 396V8 are nearly an impossibility. Just 20,986 miles from new this 1968 Caprice can be found in Chicago at Evolve Motors with an ambitious asking price of $54,500.


Every low mileage car has a story and this one began in November of 1968 at GK Chevrolet of Downers Grove, IL. The car had sat for nearly a year and having a 1968 model late in the year meant that it was time for the dealer to offer a hefty discount. Luckily for the buyers Mr. and Mrs. Young the timing could not have been better. They were able to drive this off the showroom floor for $3,400- a huge drop off the $5,191 sticker price.
I absolutely love the 'Tripoli Turquoise' paint on this Caprice. It's a sharp compliment to the faux wood siding. The paint is described as 100% original with just a few minor defects as would be expected on paint that is nearly 50 years old.
The car was used sparingly by the Youngs until the mid 80's when it was stored away and covered in a backyard barn. Mr Young kept a log for all the oil changes that were performed on the car throughout the years. The original bill of sale, window sticker and owners manuals are included with the sale. With over 15 years of service until it was stored, 20,000 miles is still incredibly low. Perhaps it was used for a Summer vacation car. It certainly doesn't look like its been through too many Chicago winters.
If the Youngs had any children they were certainly very well behaved and clean! The turquoise interior is absolutely immaculate with only a few areas showing the most minor wear.

How about a 325hp 396 for your family hauler? After long term storage, fluids were flushed, the sending unit was replaced and the distributor points were changed. The air conditioning compressor has dried so the freon has leaked but other than that everything is said to operate normally. The car is said to run and drive as you would expect a 20,000 mile car to with a quiet idle, immediate start up, smooth shifting and normal braking.

You'd be hard pressed to find another late 60's bowtie wagon as nice and original as this one. Throw in the 396 and all the factory options and I'm sure this will ultimately sell for some big bucks but the asking price seems pretty far ahead of what the market may be for this wagon but then again they're only original once!