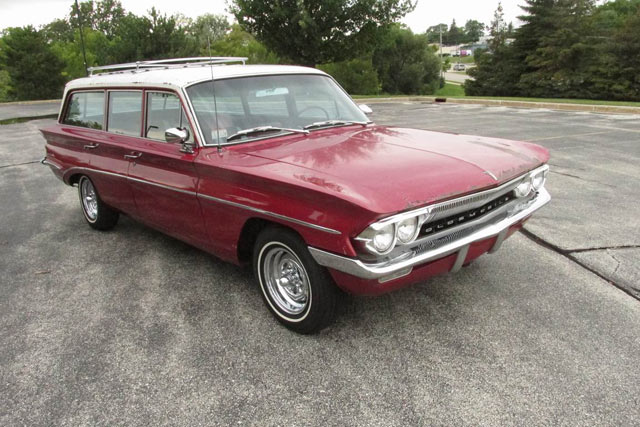 From one of our reader comes this 1961 Olds F-85 for sale.
The seller is asking $8,000
Contact Jim:
414-774-8898
parts@jetfire.com
The car is located in West Allis Wisconsin

From the sellers description:
I got it from in the spring of '05 from Boston. It was apparently towed via towbar at some point in time on its way to Boston
(there are towbar dents in the bumper, but there is another bumper included!).
This is completely driveable and usable project car.
Mileage shows 51,xxx and is consistent with all the oil change stickers on the car.
You can enjoy it as is while you make it better, and everything you need to do that is included!
It is truly free of any structural Rust.
It has a pretty thick layer of factory/dealer undercoat over everything on the bottom.
The only perforation I could find is at the right upper corner of the rear lower gravel pan
(there is an NOS pan included).
Here are the details for the overall car
Driveline is original 215 aluminium V8 and 3-speed automatic trans showing 51,xxx, which I believe is original.
It has the 155hp, 2bbl, low compression (8.75) engine. Engine runs great, sounds great.
No smoke, noises (except light lifter ticks at first start-up after sitting a long while).
The heads have hardened seats from the factory, so no unleaded issues.
It did not have the cookpot air cleaner when I got it, just the little hotrod one on it now.
Trans is slow shifting (as most of them were), but is getting better as I drive it.
It will slip on 1-2 at light throttle, but is normal if driven spirited.
This really is a non-rusty car. Look at the pix of the sheet metal under the car.
These cars were GM's first unit-body cars, and have pretty common rust issues,
especially the trunk floor, inner front fenders, and structural underbody parts. There's none here!
When you are looking at one of these y-bodies, open the hood and look at the inner edge of the front fenders.
If it's perforated there, run, don't walk away. It's usually too far along underneath to salvage at that point.
Its worst issue is the paint, it was stored under plastic sheets and blankets in a barn.
Apparently all the bat and bird crap ate through the plastic and did a number on the paint.
The streaking shown in the pix is actually in the paint and does not compound out.
It looks like whatever dripped on the car ate through the covering,
if it was on a flat surface, it ate the paint causing all the little rust spots,
if it landed on an edge, it ran down the side and etched the paint on the side.
I have taken close pix of the worst. It will require a full strip and repaint.
Original seats and interior are excellent.
Passenger side front cover has some very minor seam separation (pic'd).
Rear seat folding parts work perfect, all handles and locks work fine.
All doors close tight and are rattle free.
All electric's work as designed except:
clock (a tested one is included).
radio (hums bit no sound) (a tested one is included).
It has a New set of Kelly Navigator P185-80R13 whitewall Radial tires with less than 200 miles on them,
on new vintage chrome reverse rims with original Cal-custom Spider Caps.
13″ is the standard size, with 14″ optional (I have a set of 14″ rims available, extra cost).
The windscreen is overall pitted. (A fresh screen and gasket is included).
The remainder of the glass is excellent, all winders work smoothly.
The electric rear window only goes part way down because the window channel felt is deteriorated and bunching up in the track.
The rear gate opens and close securely, and there is no body shaking going down the road.

This is what I have done to it so far.
Installed correct NOS GM A/C water pump and belts.
Installed coolant recovery tank (standard on everything I build,
these are not known for overheating issues).
Installed a fully rebuilt & balanced driveshaft (this is a 2-piece, constant velocity shaft).
Installed NORS rear air shocks w/manual fill behind license plate.
Installed NORS rubber brake hoses (front/rear), brake system flushed.
(PO had shoes and wheel cylinders replaced just before I got it).
Installed New front wheel grease seals and bearing repack.
Installed NOS tailgate latch
Created drain hoses for rear gate lip (originals were junk and are no longer available),
without them water runs into the cargo well. Thanks GM!
Installed NOS GM valve seals (see engine pix for what the inside looks like.
Replaced rear bumper with a replated one.
I have started driving it regularly, and it has no issues with daily use
Current issues with the car
There were steering box issues when I got it, and to correct them,
the A/C compressor and hoses needed to be removed from the car. I tested the compressor before removal.
I applied power to the clutch and it engaged, with the clutch engaged, I spun the compressor by hand and it pumps.
Everything has been put back in, but there is no Freon in it (there was none when I got it, either).
The steering box badly needed adjustment, and the only way to get at the box is to remove the comp and associated hoses.
The Pitman arm seal leaked, I changed to a different lube and it has stopped (new seal included anyway).
To replace the seal requires removing the steering box, it is installed from the inside of the box,
if you're going to be that deep into it, you may as well install the P/S.
The trans slips on 1-2 when driven gently, but is solid when driven spirited, which usually means a TP rod adjustment,
but that's a pain on these trans without the proper gauges, it means a lot of trial/error.
The fluid is clean and does not smell burnt. The trans leaks from the rear seal and pan gasket.
The tailgate leaks and will fill up the rear well in heavy rain.
There were stains in the back that showed this had happened in the past.
It has not been parked outside while I have had it, I noticed it while washing the car.
A NORS (Steele) gate gasket is included.
The exhaust system has a minor leak at the y-pipe which goes away as it warms up (new Y-pipe included), and a rattle at the rear exhaust hangar
(whoever replaced the muffler welded it in wrong and it hits the rear hanger.
Front bumper is wavy and has towbar marks in it (nice one is included).
The gas filler door has a hinge issue, but it opens and closes fine.
Why these issues aren't fixed.
None of these issues have been fixed because I have not started on this car yet.
When I get a car, I make a plan for it.
I make up a project plan, put the car away, gather all the parts, and do everything at once.
Plans for this are: 231 V6 supercharger on the 215, Turbo 200 trans, appropriate cam/lifters, true duals, air ride, candy red and pearl white.
The things I have fixed were mainly to get the car functional so I can drive it around to evaluate future plans,
I hate pushing cars around on dollies.
I have two other major projects ('92 Olds Hurst Wagon, '60 T-Bird wagon) sucking up time and money faster than I can make it,
age is creeping up and I don't expect to get to this one in a reasonable time-frame, so someone else needs to enjoy it.
Here are the extras that come with it.
Complete Power Steering changeover kit (with correct pump brackets for A/C)
Real nice front bumper and brackets
NOS GM front bumper lower gravel shield
NOS GM rear bumper gravel shield
NOS GM Headlight Bezels
Exc. used windscreen (not pic'd, just the box) with NOS GM seal
NOS Taillight housings (2) w/NORS gasket set
NOS Taillight surrounds (L/R)
NOS GM A/C Receiver/Dryer
NOS GM Y-pipe and exhaust pipe
NOS GM bumper guards (front and rear)
Exc. used '63 F85 AM Radio (transistor)
NORS Wiper Blades
2 speed wiper conversion(used original motor and pump (not tested), rebuilt motor,wire harness, switch
NORS lower radiator hose
Bag of misc. rubber bumpers (NORS, Steele)
NORS Air Shocks (installed last week)
NORS tailgate weatherstrip (Steele)
NOS GM hood Silencer Pad
NORS Ranco heater valve
NOS GM Hood emblem
NORS hand brake cable
NOS GM 2bbl Carb
Please go to http://my.execpc.com/~jmorris/61-f85-red.html for more photos
Update 12/11/2017: Car has sold